Articles
3/5/2014
-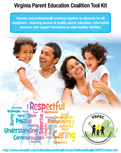 Ever wonder why some parents go to parent education classes and their children are still at risk?
Sometimes we assume the parent didn't participate fully but it could be they were not referred to the level of class to best meet their needs.
The Virginia State-Wide Parent Education Coalition (VSPEC) is a professional organization.
VSPEC is comprised of members in the public and private sectors who work with families and/or conduct parent education classes, has developed this Parent Education Toolkit to help you determine whether the classes meet the needs of the person you...
Read More »
2/26/2014
-
The outcome finding
supports the effectiveness
of the
Nurturing Parenting Program as an effective Home Visitation program.
This is an extensive study conducted by an independent researcher hired by Birth and Beyond in Sacramento.
Over a period of three years, 4,600 Home Visitations were conducted including just short of 10,000 children with extensive longitudinal follow-up analyses.
For the last 13 years, the annual evaluation of the Birth & Beyond Program has featured a follow up study of referrals to Sacramento County Child Protective Service...
Read More »